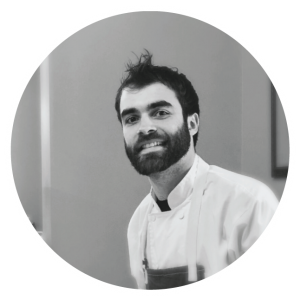 Cody Castiglia is the chef and owner of Della Terra Catering. He is educated in culinary arts and hotel and restaurant management, but he was practically born in the kitchen, as he is a third generation cook and entrepreneur. He started in the kitchen learning Italian classics from his grandmother, Loretta. Originally from Western New York, his career has led him to some of the top hotels and restaurants in Dallas, Park City, New York, and now Seattle. 
Chef Cody gained experience at the 1200 room Hyatt Regency Dallas, the flagship restaurant of former Best Chef in the U.S., Stephan Pyles and the Craving Restaurant. Most recently, Cody was the opening Chef de Cuisine at a fine dining, farm-to-table restaurant in Hamburg, NY called Carte Blanche. He now teaches farm to table cooking classes for the public at four different venues in the Seattle area. His cooking philosophy is simply using the finest, local, in-season ingredients and treating them respectfully.
His Mission
To provide unforgettable, fine-dining restaurant quality food and service in a banquet setting.

To sourcing each ingredient, to benefit the local community and environment.

To develop and mentor young chefs through internship programs with culinary schools and scholarships.